We appreciate all local not for profit organizations and wish to be supportive of your efforts to improve our community. Unfortunately, however, our resources and ticket inventory are limited and we cannot honor all requests. At a maximum, we donate to a specific organization only ONCE per year. In addition producers of some presentations DO NOT allow any type of ticket donation, and those that do permit a limited supply.
If your organization is a registered 501C-3, you are eligible to apply.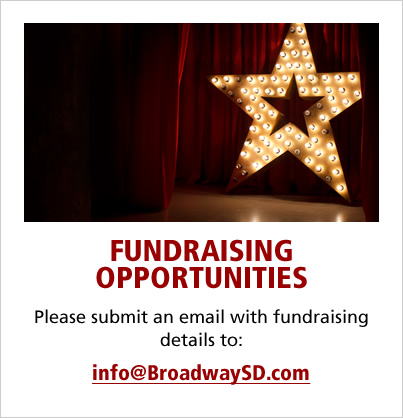 Fundraising Opportunities
If your goal is to raise funds, we have exciting and very simple opportunities that many organizations have found much more worthwhile than ticket donations. These include no-risk fundraising via online ticket sales that is "turnkey" and worry free for the beneficiary organization. If you are interested in more information regarding these options, please fill out this form and request fundraising information.
Did you know that Broadway/San Diego offers fundraising opportunities to see touring Broadway shows at a discount? We may be able to offer you up to 45% off regular prices for selected Broadway shows (plus a free ticket to you as the group leader) at the Civic Theatre. You can mark up the ticket price to just under retail, sell to your constituents, and retain the rest for your organization! Fundraising groups can start as low as 10 people; with ticket prices as low as $18.00 (certain restrictions apply).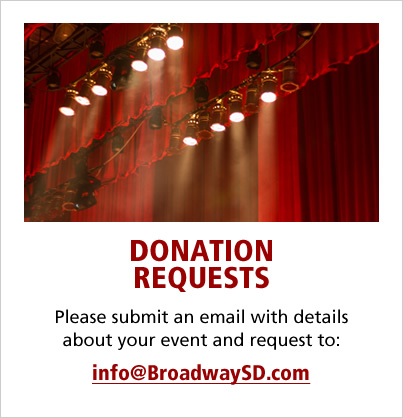 Donation Requests
If you are still interested in the donation of a voucher good toward theatre tickets, you may apply with the following understanding:
All applicants must be a registered 501C-3 organization and be prepared to provide proof of same.
We simply can NOT honor all organizations' requests.
If your request is granted, you will only be approved for one (1) event per calendar year.
In general, we prefer educational arts-related organizations, but that does not guarantee a donation.
Gala-type Annual events are preferred to Golf Tournaments and Sporting Events.
If approved, your request will be fulfilled with a voucher good for a pair (2) of Lower Balcony tickets. You will receive an email stating whether or not your request has been approved. If approved, the email will have the donated voucher attached as a PDF. When selecting a participating show, confirm the redemption date is AFTER the date of your Charitable Event.
A print out of this voucher must be redeemed in person at the Civic Theatre Ticket Office NO LATER THAN THE REDEMPTION DEADLINE. The voucher is void and cannot be honored after that time. Donation vouchers are not eligible for any refunds, exchanges or upgrades.
PLEASE NOTE that donation vouchers are also subject to availability. If the production you choose no longer has inventory available, and yet your request has been approved, Broadway/San Diego will substitute another production at our discretion.